Phoenix Rust Macro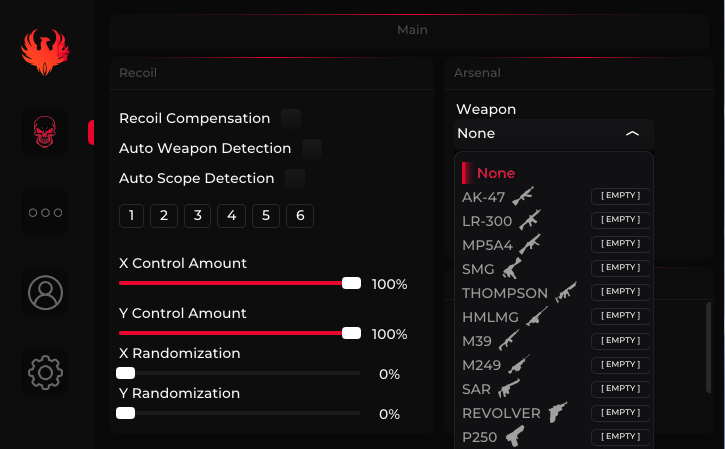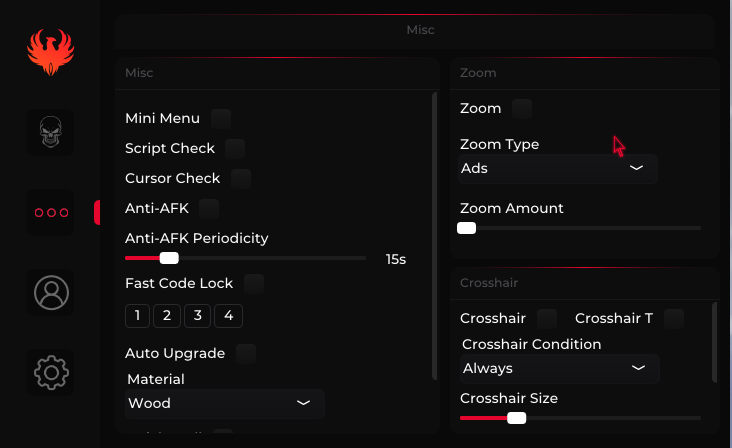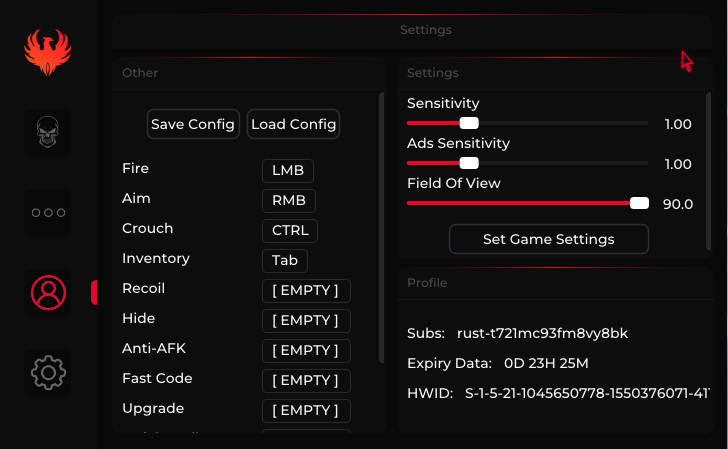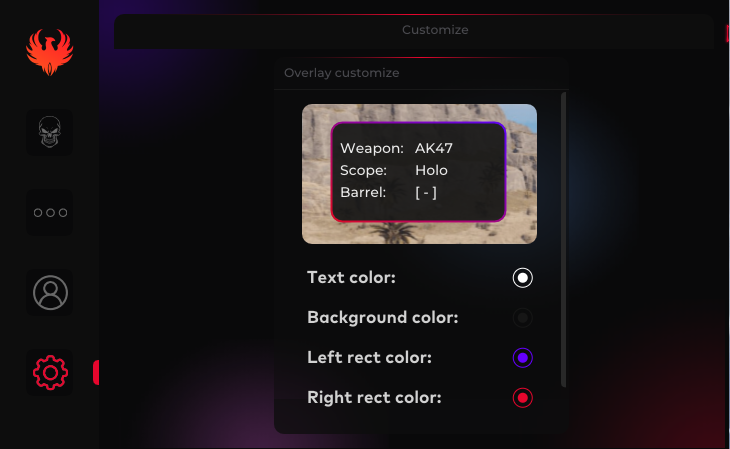 Information about cheat
Our private macro for the Rust game is more than just a program with macros for certain mouse models. Phoenix macros are made very high quality, it will be very convenient to use it, because the launch is done through a convenient loader, and the settings are through a nice and pleasant menu. Recoil suppression works for all weapons and mouse models. Moreover, you can fine-tune the recoil and activate it only for the necessary guns. There is a legit mode in order to play with anti-recoil as legit as possible. Also in the software there are additional scripts for spamming doors, auto-entry of passwords and some other little things. After the purchase, you can ask us for a working spoofer to bypass the hwid ban and we will provide it. Don't miss out on this unique product. The main thing is that the macro is not a cheat, it is much safer to play with it, the chance of your account being banned is minimal.
System Requirements
Operating system: Windows 10, Windows 11
Processor: Intel & AMD
Video card: Nvidia & AMD
Client: Steam, Non-Steam(Pirate)
Select a tariff using the slider
Weapon recoil control
Enable - You can enable/disable the macro during the game
Weapon - the choice of weapons with which the macro will work
Scopes - select scopes for guns(all scopes are supported)
Barrel - selection of weapon modules(silencer, Emotv, Muzzle Boost)
Control X / Y - adjustment of vertical and horizontal recoil
Legit Mode - maximum humanized anti-recoil script operation mode
Hipfire Mode - shooting mode from the hip (without using the sight on the right mouse button)
Rapid Fire - the possibility of firing in automatic mode from pistols and semi-automatic weapons
Big Clip - the possibility of using a expanded magazine for ammunition
Works with all types of weapons in the game
Works with all attachments for guns
Auto-detection of weapons in your hands
Auto-detection of modules on weapons in your hands
Autodetection of sights on weapons
Randomization - each time the recoil pattern will be different, this reduces the risk of detection to a minimum. The randomization value can be increased or decreased as desired.
Additional script features
Auto Code Enterer - automatic quick code entry on locks and doors
Auto Upgrade - automatic upgrade of buildings using the necessary resource
Armor Drop - automatically removes and puts armor in inventory or throws it on the ground
Furnace Splitter - sorts the resources in the furnace
Big Furnace Splitter - sorts the resources in the big furnace
Anti Afk - this feature allows you to avoid a kick for afk
Silent Walk - script for automatic silent walking
Spam Door - allows you to spam with doors
Auto Swim - automatic swimming. You can leave the character to swim in the right direction and move away from the PC
Zoom Hack - zoom even without optics
Quick Wall - automatically builds a wall in front of you on pressing the bind, useful during firefights
Color correction - calibration of color settings in the game, allows you to see better in low light
Crosshair - using a macro, you can set a convenient sight that will always be in the middle of the screen. The visual style of this sight can be customized in detail.
Additional Information
Sound - activation/deactivation of features indicated by sound signals
Config - a convenient system of config files. You can save your CFG and also share it
Hide Mode - allows you to hide the menu and make it invisible
Binds - convenient key binding to activate features
Spoofer - after purchase, we provide a spoofer to bypass the hwid ban
Customization - you can change the appearance of menu items to make it more pleasant to your eyes
It works both in Steam and in the No-Steam version of the game
The program automatically reads your game settings (sens, fov, etc.)
The software is not a cheat, which makes its use as safe as possible for your account.
Software with macros will be updated regularly, probably also expanding the list of features
Auto-detection of weapons in your hands
Cloud CFG - save your settings in the cloud on our server, download configs from the cloud, no need to store any files on your PC
Discord Status - If this feature is enabled, your Discord friends will be shown that you are currently playing Phoenix Rust Macro
Overlay - the ability to apply a script overlay over the game, the overlay shows the weapon in your hands, fps, and sometimes some other useful information
Recoil Smoothing System - recoil control method selection (Driver Based, Chrono, OS Based)
List of supported weapons
AK47
LR300
MP5A4
Thompson
Custom SMG
HMLMG
M39
SAR
M249
Revolver
P250
Python
M92
EOKA
List of supported weapon modules
Macro supports all sights in the game
Holosight
Simple Handmade Sight
8x Zoom Scope
16x Zoom Scope
The script supports all barrel modifications for firearms
Silencer
Muzzle Boost
Muzzle Brake
Extended Magazine
Least ban chance
Rust is one of those games where anti-cheat works very well and people playing with cheats get banned regularly. But the macro is not a cheat and is not introduced into the game in any way, so the chance of getting a ban when playing with scripts is very small. Recoil control scripts work using clever methods, so each of your spray patterns will be unique. Although macros do not provide such a huge advantage as cheats, your account will most likely not be banned when using our scripts.