This page contains instructions for Pixel Perfect cheat for Rust.
How to download and run the Pixel Perfect cheat for Rust?
After paying you will receive a product activation key (cheat).
Before downloading and running the cheat, it is recommended to disable your antivirus and Windows Defender (Real-Time Protection).
Download the software loader from this link .
Place the downloaded file on the usb flash drive. The flash drive must be formatted in FAT-32 format.
Launch the loader from the flash drive and register. If you already have an account, just log in.
Enter your key in the "License Key" field and click on the "Activate Key" button.
After activating the key, you will see Rust in the list on the left. Select Rust and click on the "Inject" button.
The cheat will ask you if you are ready to run. If you change your mind, you can stop the process now. If you haven't changed your mind, then click "OK."
A black window will appear, wait for the download to complete.
The cheat will offer you to use the built-in spoofer. If you need a spoofer, then click "Yes".
When the black window disappears, take out the flash drive and launch the game.
After loading the game, you need to click Insert to inject the cheat. The menu will appear automatically. Pixel Perfect cheat launched successfully.
The cheat has two menus. The regular menu is opened/closed with the Insert key. The second menu is built into the settings of the Rust game itself. Press "ESC" and go to "Options".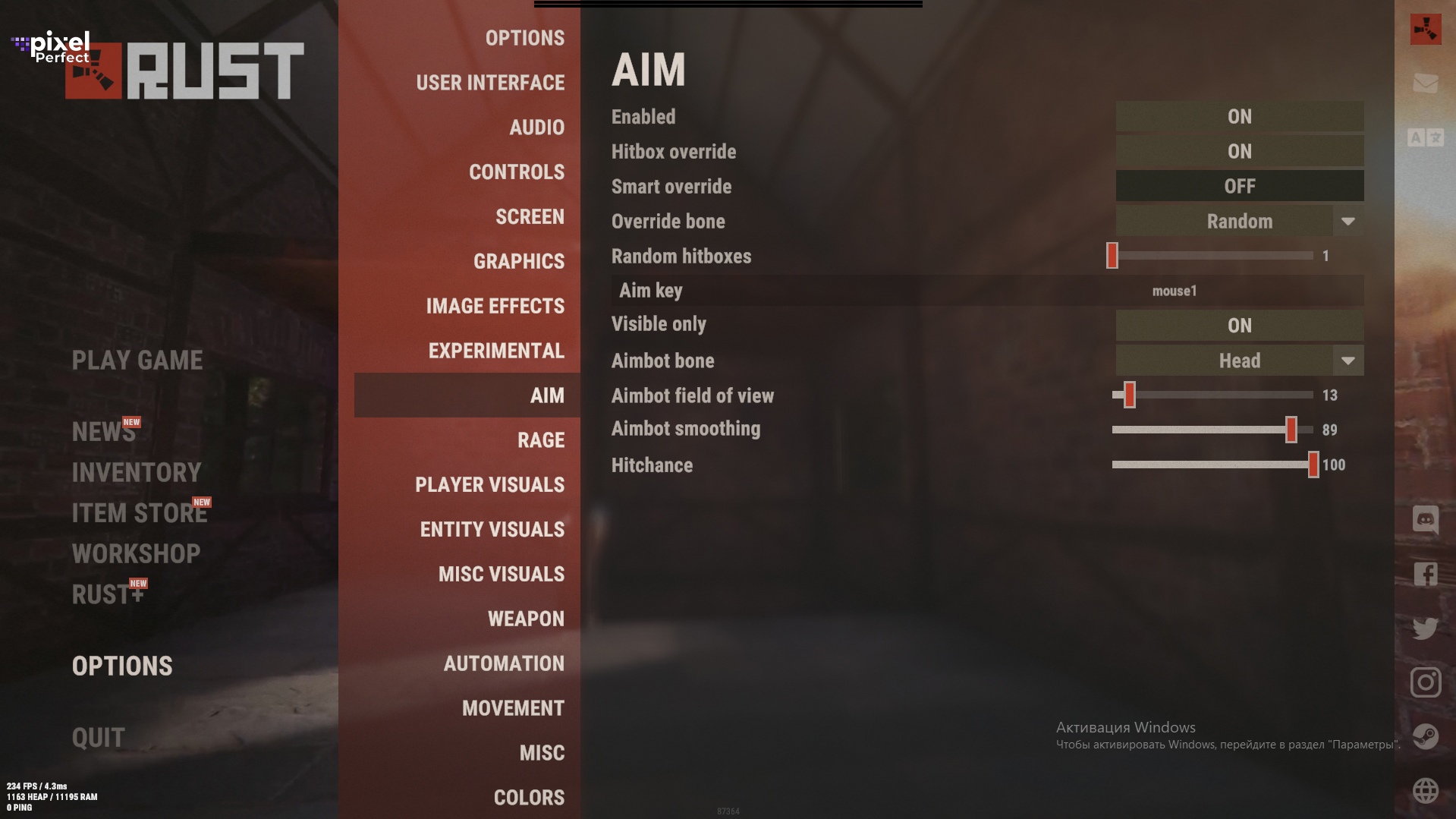 ---
What to do if the Pixel Perfect cheat does not work?
If during injection an error appears with the code "error 0x0000365", this means that something is preventing the cheat from launching:

Disable all antiviruses on your PC, as well as Windows Defender (real-time protection);
Remove Riot Vanguard (Valorant anti-cheat), Faceit Anticheat. Anti-cheats need to be removed through "Software Uninstalling"; deleting the shortcut/folder will not help.

If the error "error: 0xc01c0013" appears at startup, then you need to download and run as administrator this file.
---
Video with launch and demonstration of Pixel Perfect for Rust:
---
If you have any difficulties or questions, please contact our support
On our discord server
You can follow all our news and updates in
Our Telegram channel.
We look forward to your feedback and future purchases!