How to download and run a spoofer for EFT / Dayz / Other games with Anti-Cheat BE.
After a successful payment, you will receive a key to activate your spoofer subscription.
First, you need to prepare to download and run the spoofer:

First, turn off your antivirus (if you have one) and Windows Defender, as antivirus programs prevent the spoofer from running and may delete its files.
Also, for the cheat to work correctly, you need to go to "Installation and Removal of Programs" and remove Riot Vanguard and Faceit Anticheat, as they also prevent the software from working.
In addition, we recommend updating DirectX and VC Redist libraries. You can do this by downloading this file .

Now you need to download the spoofer loader at this link . To download the loader, you will need to enter your license key obtained after payment.
Run the downloaded file as an administrator.
Copy your key and paste it into the field in the pop-up window, then click Login.
After a short download, a window will appear with some information about the product and the "Inject" button.

If you plan to use the spoofer with any cheat, always launch the cheat loader first, and then spoofer.
If you are ready to spoof (replace your PC data), you can click Inject.
Wait for the appearance of the CMD (black window, console), after which data spoofing will take place within 20-30 seconds.
A message will appear "Do you want to clean up traces in Escape from Tarkov and bypass the ban from the developers in the game launcher?" - click YES or NO. If you recently received a ban in EFT, then click "YES," and you do not need to click "YES" until the next ban. If you have not yet received a ban in EFT, do not click "YES."
The spoofer will close. You have successfully spoofed, and now you can enter the game and play.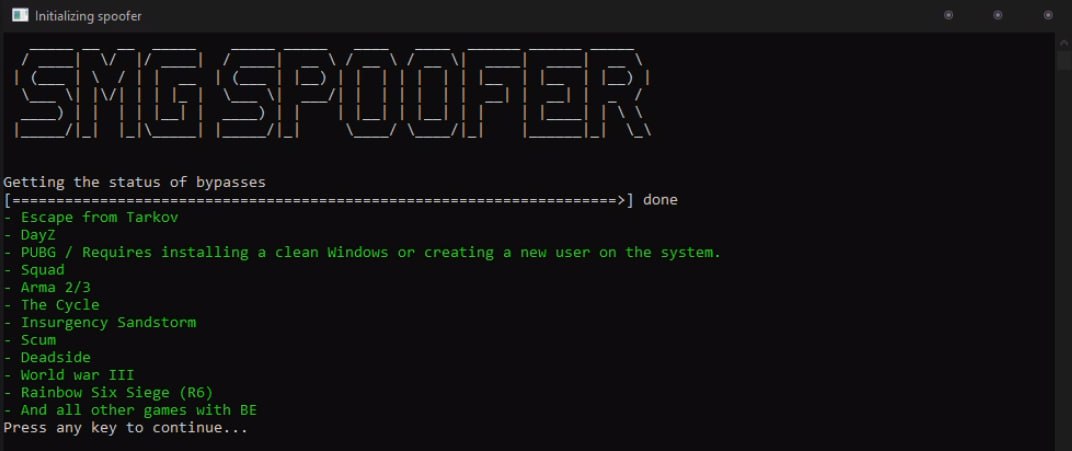 A bit of information about the spoofer:
The spoofer works for the following games:

Escape From Tarkov(EFT);
Dayz(DayZ StandAlone);
R6S(Tom Clancy's Rainbow Six Siege);
Squad;
Arma 2;
Arma 3;
The Cycle: Frontier;
Insurgency Sandstorm;
Scum;
Deadside;
World War 3(WW3);
Other games protected by BE(Battle Eye) anti-cheat.

The spoofer spoofs the following components:

Bios serials;
CPU id;
Motherboard serials;
RAM serials;
Disk (HDD/SSD/NVMe/M2) serials;
Partition GUIDs;
Network Adapter MAC addresses;
PCI devices;
Windows Product serials;
Registry.
If you have any difficulties or questions, please contact our support
On our discord server
You can follow all our news and updates in
Our Telegram channel.
We look forward to your feedback and future purchases!