This page provides instructions for launching and activating the cheat for Dark and Darker.

How to run cheats for Dark and Darker:
After completing the payment for the cheats, you will receive a product activation key
Before proceeding to the download and launch of the hack, you need to make sure that everything is ready for this:

you need to disable all antiviruses on your PC, as well as Windows Defender (Real-time protection);
remove anti-cheats FaceIT AC and Riot Vanguard (anti-cheat from Valorant) through the "Software Uninstalling".
We strongly recommend to disable the antivirus using the Defender Control, this is the only way to guarantee 100% shutdown of Windows Defender. You can download Defender Control using this link .

Now download the cheat loader from this link .
It is also necessary to add the game to Steam, this is a prerequisite for the cheat to work.
To do this, open Steam -> Library -> Add Game -> Add Third Party Game. In the list of applications available for adding, select Blacksmith(Dark and Darker).



Now you need to go to the launch options of the game in Blacksmith and add '-d3d11' there, in order for the game to run through Directx 11. To do this, open Blacksminth -> Settings -> Game -> Launch Option. Next, enter -d3d11 in the line Launch Option.


Make sure the game is currently closed. Running the software while the game is running is prohibited.
Run the previously downloaded file as administrator. The first time you start, the loading may take longer than usual.
To activate the key, click on the "Activation key" button and enter the key received after purchase.
In the list of available games, select Dark and Darker and click Load.
Now the program asks you to start the game. Let's start Dark and Darker.
After launching and fully loading the game, wait a bit. The cheat menu will appear at the screen, which means that the hack was injected successfully. The Insert key is used to open the menu.
The cheat menu after a successful launch looks like this: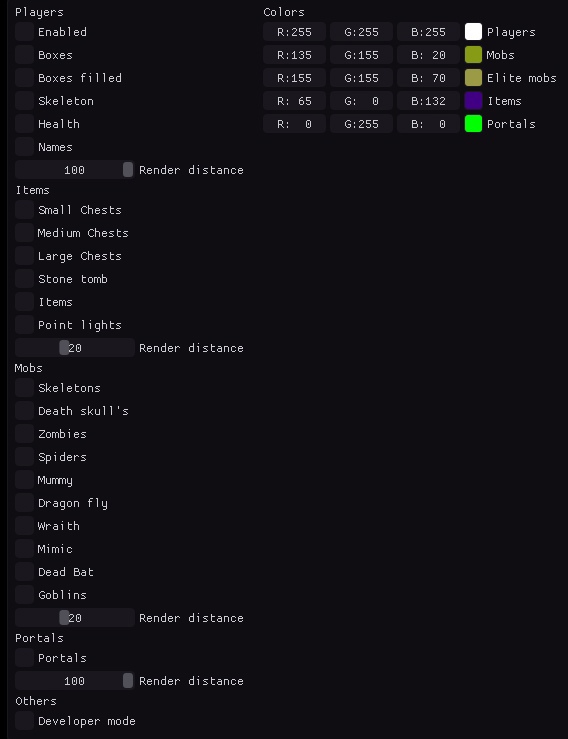 If the cheat shows that there should be a portal on the point, but you don't see it there, then this means that the portal will appear there soon.
---
Cheats for Dark and Darker do not work what to do:
It is necessary to remove FaceIT and Riot Vanguard anti-cheats (Valorant anti-cheat games). They must be removed via "Software Uninstalling", you can't just remove the shortcut or folder with the anti-cheat.
All antiviruses must be disabled, and you must also disable Windows Defender (Real-time Protection).

Disabling Windows Defender (Click here to open)

Our cheat works only on Windows 10 and Windows 11, newer versions of OC are in priority. If you have on your computer old build of Windows 10, then you should upgrade to a newer one (21H2 for example).
In some cases, your computer may has problems in establishing a connection with our server. Try run software with VPN enabled. If everything starts successfully, then in the game it will be possible to turn off the VPN after a successful injection.
If you have any difficulties with activating the key or your subscription suddenly disappeared, then you should contact our technical support and we will try to quickly sort out your situation.
---
If you have any difficulties or questions, please contact our support On our discord server
You can follow all our news and updates in Our Telegram channel.
We look forward to your feedback and future purchases!